Have you ever sat on a swivel chair in the middle of a circle of people? No? Well, okay, me either, to be honest. But this is the image that pops into my mind as I begin to identify stakeholders.
Imagine you are on a swivel chair in the middle of a circle of representatives across functional areas throughout your organization – finance, HR, IT, product, engineering, board of directors, executive office, customer support, sales, security, and facilities & operations. (Note: this list will change based on industry – e.g. the healthcare will include providers, payers, and nurses; the transportation industry will include drivers and maintenance crews; the education industry will include school administration and teachers … you get the gist.) Write down this list of organizational functional areas and hold onto this list for the next step.
When identifying stakeholders, how do you ensure you are including the right people? It's important to work with your core team to identify the stakeholders vs. creating a stakeholder list in a silo. One tactic I like to use to create a baselined list of key stakeholders is to facilitate a mind-mapping session with your core team. The center of your mind map can focus on the following questions:
Who are your customers/end users? This could be broken down into different user types or customer roles/groups.
Which groups are the end user touchpoints? Which internal functional areas provide direct support your external customers/users?
This will also be the basis for determining the user scenarios or user journeys you'll want to document in the next phase of the project.
Here's a simple example of what stakeholder mind map might look like for a generic system implementation identifying the different user types. Brainstorming this upfront will help determine user access permissions, automated workflows, and support/rollout requirements.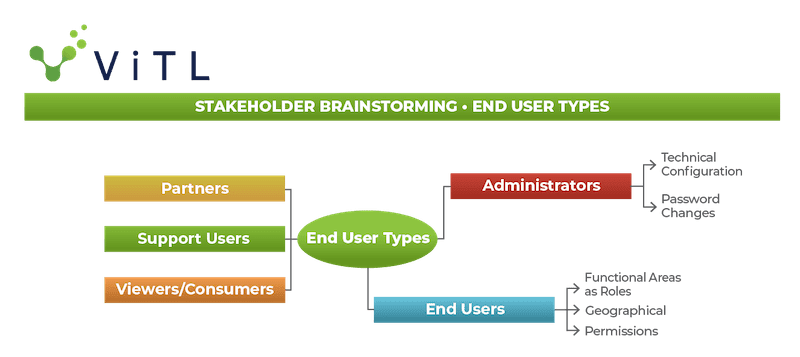 Below is a brainstorm identifying who would need to be involved in a product launch and who the internal stakeholders are to support the effort. The end users in this scenario are the customers purchasing the product, thus categorizing these groups as "end user touchpoints."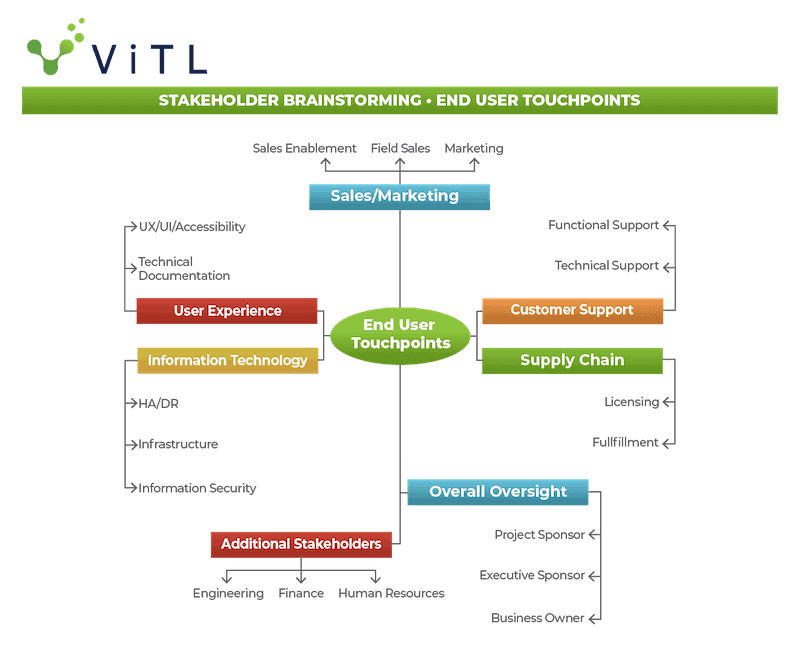 As you move forward in scheduling your stakeholder impact interviews, you may identify other stakeholders to whom you'll need to connect with. However, starting with a "lean' list" of stakeholders will ensure you maintain focus and identify the primary people who will become your change champion liaisons. In your initial interviews, you'll want to make sure to identify a primary liaison for each of the functional areas. These individuals will be responsible for bi-directionally collecting and communicating feedback between their team and the core team. They will commit to and be accountable for the decision that their functional area is ready or a "go" for the change.
When conducting your stakeholder interviews, it's important to first provide them awareness of the pending change. Some stakeholders may not even know that the change is occurring, so briefing them on the change even at a high level will help with establishing their role in the change. For example, for a new product launch org readiness effort, field sales associates may have heard about the new product in the strategy, but this is the first time they will hear about the recommended target market or product development feature roadmap. Providing even a high level to this stakeholder group helps begin their journey along the change spectrum from a positive, involved place. Additional questions you may consider asking your stakeholders in the initial stakeholder impact interviews include:
What is your role and scope of responsibility?
What considerations does the implementation team need to be aware of for you/your group?
What communications are needed to support your team?
If you were one of the end users/customers, what communications/knowledge would you say was important?
How can we leverage/bundle other communications or meetings to provide updates about this change to you/your group?
What are your training needs?
What are some change adoption and/or change resistance considerations to consider for you/your team?
What information/deliverables are you dependent on to support you through this change?
What information/deliverables do you plan on producing?
What timeline is needed to support your group?
What is the best way to ensure your group is involved and supported through this change?
Using these open-ended questions helps your internal stakeholders and change network take ownership of the change. By guiding them through these questions and then building a comprehensive change plan as a result of the discussion, you, and everyone impacted, will be better set up for success.